Day 2 of the Qualifiers for the Challenger Selection Series, in the 36th America's Cup had as many surprises as the first day of the event.
INEOS Team UK continued as they did on the first day of the regatta, scoring three wins from three races, and is the clear leader of the first of four Round Robins.
The win was surprising, because it came in light conditions in which the Brits had been truly dreadful in the final day of the America's Cup World Series and Xmas Cup held in mid-December.
Day 2 Prada Cup American Magic – The surprises continue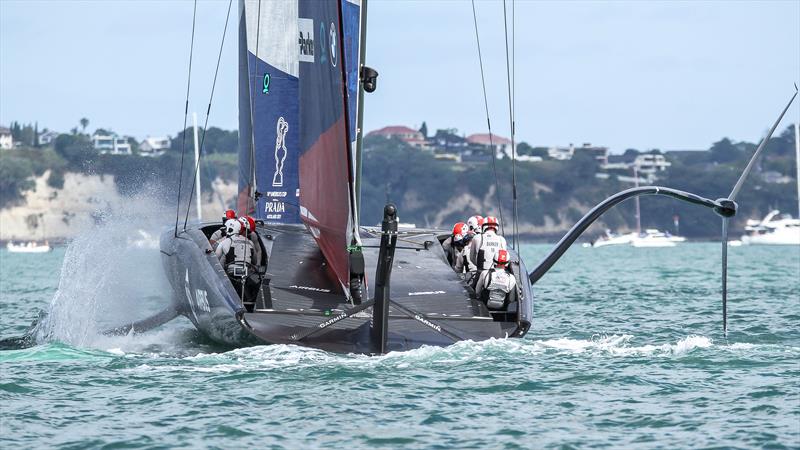 Such is the degree of transformation in the British challenger, that having not been able to win a single race in the two December regattas, they have now won three on the trot. All have looked to be convincing wins, when just a month ago they were routinely losing races by over a leg of the course.
At yesterday's media conference skipper Ben Ainslie indicated that he didn't know how his revamped charge would perform in the light. Whatever has been changed, Britannia is a completely different boat from December. Even better for the Brits it would seem that Britannia is now a strong performer right across the range of conditions.
We'll have a better gauge tomorrow, when winds close to the upper end of the wind limit are forecast.
Today it was American Magic's turn to look sticky in the light – an "attribute" that INEOS Team UK owned pre-Christmas, and by all accounts had done so from the time she was launched.
Surprisingly American Magic did not change to her biggest jib, when it was obvious conditions were going to be light for the second of two races today. The teams seem to be very quick to change down jibs and often get caught under-canvassed, when the breeze drops contrary to forecast expectations. But interestingly Luna Rossa also sported a less than maximum hoist jib in the first race of the day.